Did you know that (after the United States) Canada gets more tornadoes than any other country in the world? Much more powerful than your typical thunderstorm, a tornado can cause significant damage to your home and property. The good news is, you can take some simple steps before, during, and after the storm to protect your space and keep your family safe and sound.
How to prepare before a tornado
Tornado season generally spans from May through September in Canada. These simple tips can help you prepare for a tornado emergency:
Wondering what to keep in your emergency kit? Check these items off your list: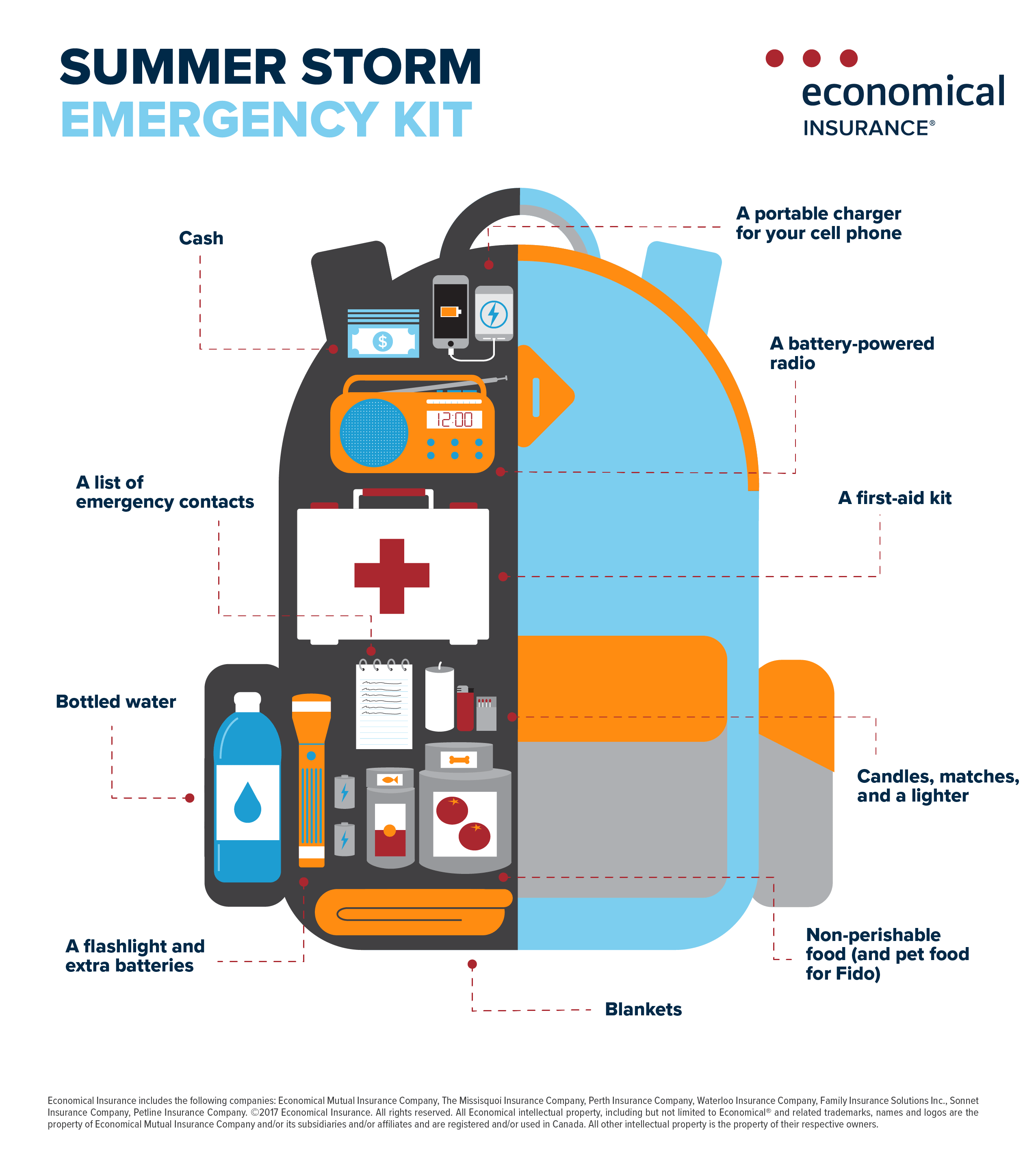 (Viewing this from your smartphone? Click here to enlarge.)
Summer storm emergency kit
A portable charger for your cell phone
Cash
A battery-powered radio
A list of emergency contacts
A first aid kit
Bottled water
Candles, matches, and a lighter
A flashlight and extra batteries
Blankets
Non-perishable food (and pet food for Fido)
How to stay safe during a tornado
Once a tornado has arrived, there are a few things you can do to keep your loved ones safe until it passes.
Take shelter and steer clear of windows.

 Stay indoors and head to the basement (or to a small main-floor room like a bathroom or closet, if you can't get to the basement). Once you're there, get as close to the ground as you can, and stay as far away from windows as possible.

Get off the road (or out of your mobile home).

 If you're driving when the tornado hits, get into the nearest building as quickly as you can. If you live in a mobile home, find shelter in a permanent building with a solid foundation. If there's no building nearby, consider taking cover in a low-lying area like a ditch, away from trees or other objects that could be blown towards you.

Protect your noggin.

 Wherever you are, watch for flying debris and keep your head covered. If possible, consider sitting under a piece of sturdy furniture like a heavy table or desk, or use your arms to protect your head and neck — better yet, have your family put on bike helmets if they're close at hand.
What to do after the tornado has passed
Tornadoes usually hit in the afternoon or early evening, and most don't last longer than 10 minutes. Once you think the storm has passed:
Want to learn how your home insurance policy could help in the event of a tornado? Talk to your insurance broker today.
This article was originally posted on economical.com